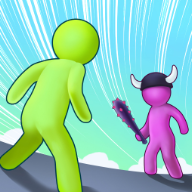 Category

Code
Author

Cocos官方
Creator Version Required

v3.3.0
Supported Platform

Android

HTML5
Rating
Sale Price

$

15.99

(Individual)
Introduction
Description
Officially produced by Cocos Engine Team. A 3D adventure game source code, including a complete game plan (in Chinese) and art resources.
Operating environment
Creator version: v3.0.0
Programming language: TypeScript
Update statement
v1.2
Remove the meshCollider component of the cowBoyHat hat to reduce physical calculations.
Use temporary variables to avoid multiple creation of variables.
Adjust the spacing between the interface UI and the top.
Key material check instancing.
Fix the small probability that the progress bar grows, but the background color is colorful.
Limit the vibration frequency, the diamond flies in to turn on the vibration.
Replace the walls of the first 10 levels with other obstacles.
Load all road modules first to avoid dynamic loading of roads, and the flame at the end will not be displayed until the player reaches the finish line.
Reduce the number of particles for collecting diamonds, collecting keys, and invincible special effects, reducing performance overhead.
Reduce the number of vertices in the villain model by half.
Event string changed to use enumeration management.
v1.1
Reduce the performance consumption of collecting diamond and key particle special effects issue.
Fix the loading failure after being killed and then clicking skip after resurrection issue.
Fix WeChat build issue.
Fix levelUp sound effect reading failure issue.
v1.0
Game type
Leisure, puzzle, stand-alone, Android, 3D, parkour.
How to play
This is an adventure game, through collecting villains of the same color on the way to strengthen yourself, rush through the numerous organs, and defeat the guarding BOSS.

Collect diamonds at the same time, you can purchase to unlock more skin effects.
Operating instructions
In the game, the giant will move forward automatically, and the player needs to slide the screen to control the giant to move left and right.
When entering the battle, slide according to the prompts to avoid the enemy's attack, and click to attack the enemy.
Resource description
Art: Art resources include max format model, bip format animation, psd format interface original files.
Program: Complete Cocos Creator 3.0.0 project, supporting H5, various small game platforms, and Android platforms. The iOS platform is theoretically supported, but we did not try.
Planning: This resource pack contains two complete planning documents for the game and UI instructions.
Contact the author
Email: 876057443@qq.com
You can also post in Cocos forum, or leave a message at the bottom of this product page.
Copyright
This game is officially produced by the Cocos Engine Team.
You can use the resources in this Demo for secondary modification and creation.
User Rating
Total users participating at this score:
10
Reviews
AlexManDesign
2021-09-04 21:08
is cool !!! wait for version 3.3
3.2上用不了,shader和effect不好改。建议谨慎下载。
feixiaochuan
2021-07-16 09:14
资源不错,只是道路能是曲面的就最好,可以学习怎么制作曲面
chals115
2021-07-15 17:17
已购买,怎么获取源码?
2020 © Cocos.com版权所有
增值电信业务经营许可证:闽B2-20160169
闽ICP备14002653号-6
闽公网安备 35020302033941号