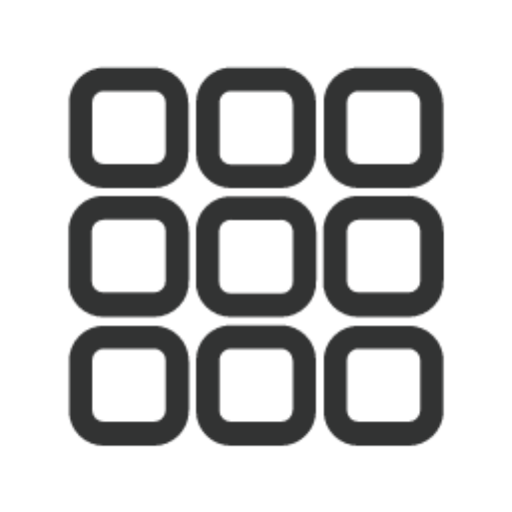 Category

Creator Extension

Plugins
Author

La_vie
Creator Version Required

v3.0.0
Supported Platform

Android

iOS

HTML5
Rating
Sale Price

$

2.80

(Individual)
Introduction
Many Widgets——A handy plugin for Cocos Creator 3.x
Many Widgets
This is a handy plugin that helps you create components with special functions, shaders and 3D models.
Supported Cocos Creator version: 3.x.
Coocs Forum: https://forum.cocos.org/t/topic/125552
Note:Shader, 3D models and some components are not included in the open source.
Components Up To Now:
Typer
Bullet Screen
Rolling Number
Combo Box
Moving Background
Zoom View
Spin Box
Beginner Guide
Tooltip
Joystick 2D
Joystick 3D
2D Follow 3D (Use it on player's name or blood progress bar)
2D Follow 2D (Use it on a tracking missle or something like that)
Magnifier
Phantom (trailing effect)
Shaders Up To Now:
Aging
Frozen
Poisonous
Gray
Inverse
3D Models Up To Now:
Pick Star Monster
Star
Heart
Dice
Football
Cartoon Tree
Basketball
Axe
Shield
Bat
Sword
Kitchen Knife
Rubik's Cube
Examples:
Typer:
Just click the the use button and you will get a label with typing effect.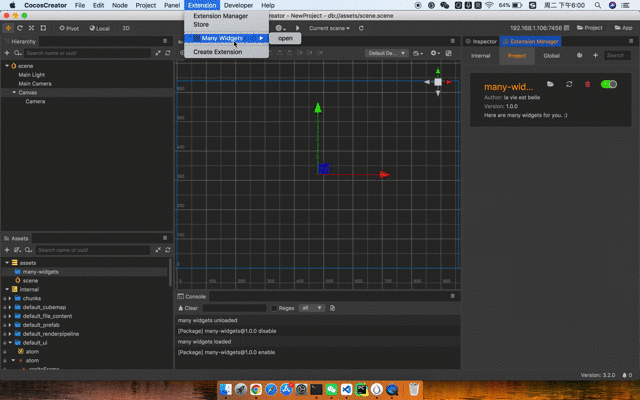 demo link: https://la-vie-est-belle.github.io/many-widgets-demo/typer/

Bullet Screen:
Sometimes there are more steps after clicking the use button. However, these steps, for example, adding prefabs onto components, are just easy.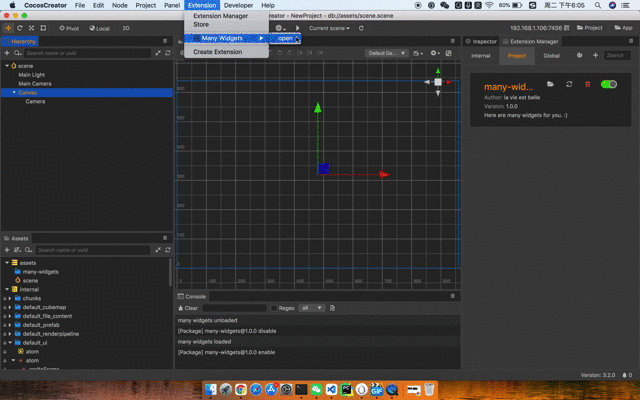 demo link: https://la-vie-est-belle.github.io/many-widgets-demo/bullet-screen/

Combo Box:
Combo box is not very often seen in games, unless you want to use Cocos Creator for other kinds of apps.
demo link: https://la-vie-est-belle.github.io/many-widgets-demo/combo-box/
Components Demos:
Typer
Bullet Screen
Rolling Number
Combo Box
Moving Background
Zoom View
Spin Box
Beginner Guide
Tooltip
Joystick 2D
Joystick 3D
2D Follow 3D
2D Follow 2D
Magnifier
Phantom
Shader Demos:
Aging
Frozen
Poisonous
Gray
Inverse
3D Models Demos:
Pick Star Monster
Star
Heart
Dice
Football
Cartoon Tree
Basketball
Axe
Shield
Bat
Sword
Kitchen Knife
Rubik's Cube
Docs:
You may find the demo link and How to use sections in the plugin panel.

Problems and Suggestions:
If you find any problems, please leave a message. And you suggestions would also be highly appreciated.
This is my email address: louasure@126.com
User Rating
Total users participating at this score:
5
Reviews
rickystone
2021-12-05 11:55
nice~
rickystone
2021-12-05 11:53
可以运行啦。
rickystone
2021-12-05 11:19
已经加qq
rickystone
2021-12-05 11:17
连个图片都没有,啥都没有
Author
你好,新手引导上面生成后本来就是没有图片的,加下我qq: 1556576013 问题已解决,插件没有问题,请之后的购买者注意一点: 这个插件不是提供示例,提供示例的话一点意思也没有,因为大家还需要从示例代码中抽取代码再放到自己的项目中运行,比较浪费时间。 插件生成的组件只需要大家调用一两个简单的接口就能使用,方便大家接入到自己的项目中。:) 接口的说明以及组件的使用方法都是有详细的解释,还提供了操作视频,请大家一定要看过先,使用起来不会有难度。
rickystone
2021-12-05 11:17
可以运行,但是没有效果,比如那个新手引导
Author
问题已解决,插件没有问题,请之后的购买者注意一点: 这个插件不是提供示例,提供示例的话一点意思也没有,因为大家还需要从示例代码中抽取代码再放到自己的项目中运行,比较浪费时间。 插件生成的组件只需要大家调用一两个简单的接口就能使用,方便大家接入到自己的项目中。:) 接口的说明以及组件的使用方法都是有详细的解释,还提供了操作视频,请大家一定要看过先,使用起来不会有难度。
rickystone
2021-12-05 10:58
怎么下载使用不了?
Author
你好,是有什么提示吗?会不会你用在了2.x版本上?这个插件目前只支持3.x。如果是其他原因的话请联系我qq:1556576013
大佬,遮罩没用啊
Author
具体什么问题,你加下我qq 1556576013,给你解决。 已联系解决,不是插件本身的问题。
2020 © Cocos.com版权所有
增值电信业务经营许可证:闽B2-20160169
闽ICP备14002653号-6
闽公网安备 35020302033941号